---
We often overlook the rough-sleepers that we pass in the streets each day, either because we psychologically think if we don't look, it doesn't exist or because we are at some level, embarrassed because we don't know what we can do to help…
---
Homelessness & rough-sleeping can only be solved when we take a holistic view of the situation rather than just seeing them as having no home and provide physical actions rather than simply produce reports & statistics – Dave R – Founder Drink 'n' Drugs
---
Unless we address this critical issue, more will due needlessly. We need to have an open, honest conversation based on physical actions rather than simply reports and statistics. We also need to provide treatment and help for their physical health needs, mental health needs, addiction issues as well as work, education and provide opportunities for them to return to society feeling valued and respected, we'll never get anywhere.
---
According to the latest Government figures, collected in the autumn of 2019 and published in February 2020, 4,266 people are estimated to be sleeping rough on a single 'typical' night.

Homeless Link
---
This national crisis across the UK is one that has been neglected by all Governments for too long, with those homeless and rough sleepers affected, losing their lives whilst the national emergency sits idle.
---
Since 2010, the rough sleeping figure has increased by 141%

Homeless Link
---
With the spread of Covid-19, Governments have temporarily housed some of those effected, whilst others have been forgotten. Now is the time for us all to commit to and apply real actions that could remove 99% of those currently rough-sleeping and homeless to survive, grow, develop and become productive members of our community and return to feeling respected, valued, satisfied and content from their efforts within our communities.
---
280,000 people in England are homeless, with thousands more at risk.

The situation is worsening with 1 in every 200 people are without a home in the UK.

Shelter
---
Shelter's extensive analysis of official rough sleeping and temporary accommodation figures, along with social services records, shows that in one in every 200 people are without a home. For the first time, its review of government data has also exposed that close to 220,000 people in England were threatened with homelessness in the last year.
What Can We
All

Do To Help?

You can find a full report from the charity Crisis, discussing what works and what doesn't to overcome rough sleeping and homelessness on our downloads & media page.

Here are five practical ways you can make a difference.
1. Alert The Professionals
Shoppers and commuters pass by homeless people day after day but many may feel they do not know how to help. One of the simplest ways is to tell a professional.
Street Link is a government-funded service which allows people to alert local authorities in England and Wales about rough sleepers in need of support in their area.
"With the public's help, in the last 12 months we have put almost 11,000 people in touch with the support they needed to escape rough sleeping," says director Matt Harrison.
"We hope to have an even greater impact in 2017."
You can pick up the phone or use Street Link's website or app to enter details of the location, time and date you saw the person and any other information you have.
The service will contact professionals who will try to find them and help them access things like shelter and food.
2. Give Time, Not Money
When someone on the street asks for money, some give instinctively, while others struggle with what it might be spent on. For Rik James, who previously slept rough, money is not the answer.
"If they ask for money it's for one of two things – drugs or alcohol," says Mr James, who runs Birmingham Homeless Outreach.
"Offer them food and if they don't take it they don't need it."
It's his view that if a homeless person spends money on drugs then the person who gave them the cash is party to the substance abuse.
"Just come out with food and hot drinks," he adds. "Give them five minutes of your time, talk to them, listen and try to treat them as a human rather than an object, obstruction or "someone else's problem".
"I go out seven days a week with clothes, food, drinks, bedding or sleeping bags" he says.
3. Give/Donate Small Things
If you choose not to give money to homeless people, there are other things you can give to make a difference to their day.
"A lot of people doing a little is better than a few people doing a lot", is the motto of former armed serviceman Ian Northcott.
He founded Socks&Chocs in 2010 to collect warm and dry socks and chocolate for people on the streets of Birmingham.
When Mr Northcott was a soldier he often spent days in the field, tired, cold and wet. The Army insisted he put on a pair of clean, dry socks each day.
Mr Northcott says he did not realise the importance at first, but the simple pleasure of a warm pair of socks made a great deal of difference.
His charity aims to give the same feeling to homeless people struggling in the cold, along with chocolate to give them an energy boost as well as an emotional/psychological one.
This year the charity has given out 6,274 pairs of socks and 4,713 boxes of chocolate.
Other gift ideas which could make a difference include hand warmers, gloves, hats, word search/crossword books and fictional/non-fiction books and other small items that are lightweight and easy to carry around.
4. Remember Our Furry Friends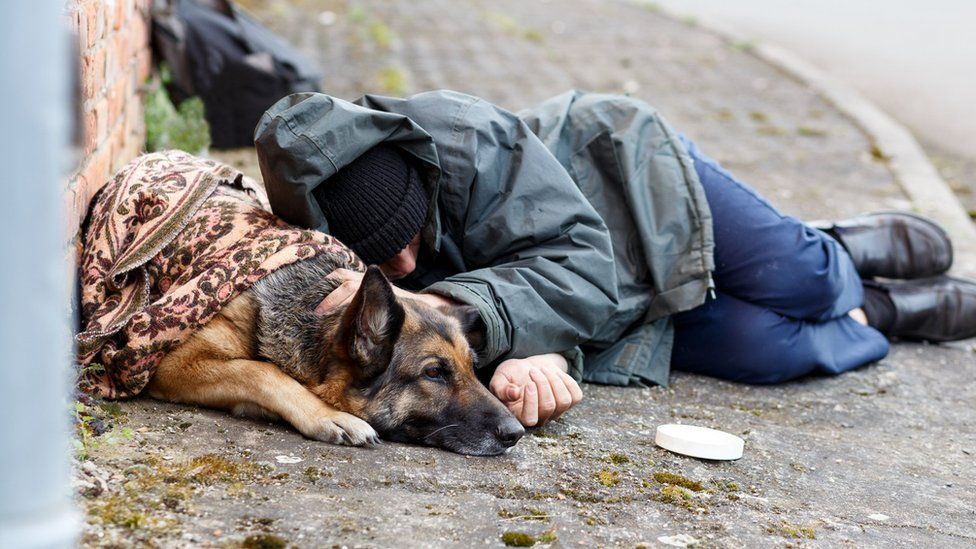 A four-legged friend can be some rough sleepers' only companion – and both owner and pet may be grateful of a kind gesture.
"If people want to help a homeless/rough sleeping person with a dog, buying them some dog food, dog treats, toys or warm dog coats will always be welcomed by them and we're sure it would always be appreciated any others too," says Clare Kivlehan, head of outreach projects at The Dog's Trust.
She says the public could also put rough sleepers in touch with the charity's Hope Project, which provides free and subsidised veterinary treatment to dogs whose owners are homeless or in housing crisis. You could also donate money directly to local veterinary programs who offer help and support for dog owners who are homeless or sleeping rough. Contact your local veterinary surgeries in your local area to see what is available in your area.
The project also works with hostels and housing providers to encourage them to accept clients with dogs.
Ms Kivlehan adds: "Each year, the Hope Project funds around 1,800 veterinary treatments to help dogs remain with their devoted owners… There are now over 150 dog friendly hostels nationwide and we hope this number will continue to grow so that we can help as many people and animals alike."
5. Remember The "Hidden Homeless"
When rough sleepers or the homeless line the streets, their plight is painfully visible. But Roger Harding, campaign director at homeless charity Shelter , says there are many, many more people whose struggles are hidden.
"Last Christmas, 120,000 children in Britain were homeless," says Mr Harding. "Hidden away in hostels; sharing kitchens and bathrooms with strangers. Sharing a bedsit type bedroom with the rest of their family, often all in one tiny room."
He says people could encourage those at risk of losing their homes to call their helpline, which is open 365 days a year for advice and support.
The government's Homelessness Reduction Bill, originally introduced in October 2016 places a duty on local authorities to help eligible people secure somewhere to live 56 days before they are threatened with homelessness.
Councils must also provide those who do find themselves homeless with support for another 56 days to help to secure accommodation.
---
6. Consider Volunteering
There are many voluntary schemes up and down the country, offering help, support, hot food and drinks, clothing, bedding, waterproof items, toiletries and others who often need more volunteers to help make these schemes possible.
If you can spare some time each week, consider volunteering for one of these programs in your local area. Your local council or an internet search can help you find what's on offer in your area.
7. Donate Food To Your Local Food Bank
We often buy food that we do not use or are surplus to requirements, which we then often simply throw away. Many hundreds of food banks up and down the UK are always desperate for donations as more and more people continue to need their services to feed themselves and their family. Many supermarkets including Tesco, Asda, Waitrose, Morrisons, Lidl, Aldi and others have donation baskets, often near to checkouts, which you can place any donated items in, which will then be collected by volunteers for the food banks and given out in food parcels to those who need them.
What Can I Donate?
Every emergency food parcel provides a minimum of three days' worth of nutritionally balanced, non-perishable foods that have been donated by people in your local community.
The following items make up a typical food parcel, which means that they are the best items to donate:
Cereal
Soup
Pasta
Rice
Tinned tomatoes/ pasta sauce
Lentils, beans and pulses
Tinned meat
Tinned vegetables
Tea/coffee
Tinned fruit
Biscuits
UHT milk
Fruit juice
Giving to charity: how to boost donations without paying more
Food banks also accept additional items that are not on the standard packing list and these are then included in parcels as treats, said Tanya Yilmaz, spokesperson for The Trussell Trust.
Items on the list above are in the highest demand, however.
"UHT milk and coffee are good examples of items that food banks often run low on, whilst baked beans and pasta tend to be the most commonly donated items.
It's Not Just Food That People Can Donate
"It's natural that the first thing anyone thinks to donate to a food bank is food, but toiletries and hygiene products are also extremely important.
"Food banks also try to provide some essential non-food items to adults and children in crisis such as toiletries, household items, feminine products, and baby supplies," says Yilmaz. 
Non-Food Donations
Toiletries
Deodorant
Toilet paper
Shower gel
Shaving gel
Shampoo
Soap
Toothbrushes
Toothpaste
Hand wipes
Household Items
Laundry liquid detergent
Laundry powder
Washing up liquid
Cleaning products
Cloths & biodegradable wipes
Feminine Products
Baby supplies
Nappies
Baby wipes
Baby food
---
Get In Touch
If you need help or advice, please either contact the organisations mentioned above, find charities, organisations and groups on our help and support page here, comment or message us on our social media pages here or email us: info@drink-n-drugs.com
Find More Articles Like This One…